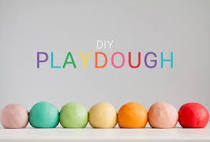 By Anna Ranson, The Imagination Tree:
If you have never tried making your own play dough, this is the time to give it a try. It's very different to store bought play dough, being much softer and lasting a whole lot longer.
The benefits of using play dough with young children are wonderful and the play possibilities are endless!
Ingredients:
2 cups plain all-purpose flour
2 tablespoons vegetable oil
1/2 cup salt
2 tablespoons cream of tartar
Up to 1.5 cups boiling water (adding in increments until it feels just right)
food colouring (optional)
few drops glycerine (optional- adds more shine!)
Method:
Mix the flour, salt, cream of tartar and oil in a large mixing bowl
Add food colouring TO the boiling water then into the dry ingredients (colour optional)
Stir continuously until it becomes a sticky, combined dough
Add the glycerine (optional)
Allow it to cool down then take it out of the bowl and knead it vigorously for a couple of minutes until all of the stickiness has gone. * This is the most important part of the process, so keep at it until it's the perfect consistency!*
(If it remains a little sticky then add a touch more flour until just right)
We use Wilton-brand gel colors as they are much more vibrant and take only a tiny amount to colour the dough. We also use them in all our other sensory play activities to and they last for ever!